Unless the Lord builds the house, the builders labor in vain. (Psalm 127:1)
A key reason that our church exists is to see more and more people – both in our neighbourhood and beyond – come to know and follow Jesus.
But we can't do that ourselves. Only God has the power to change people's hearts and minds and bring them to trust in Jesus. And so he calls us not only to tell people about Jesus, but to prayerfully depend on him as we do so.
Join us for an hour of pray that our mighty God would bring more and more people in our community and beyond to know and love Jesus.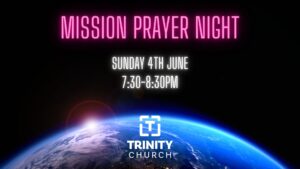 Contact Mark Curran for location and more details.