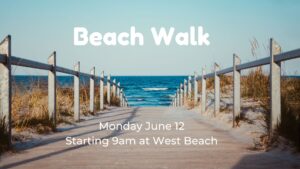 Join us for a beach walk on the King's Birthday holiday Monday. We'll be beginning at West Beach, walking to Glenelg and back. Everyone is welcome!
For those who want to walk:
We'll meet at the West Beach Surf Club (there's lots of parking available) and begin the walk at 9am. It's a flat 8.6km return trip to and from Glenelg, with time for a coffee or ice cream break in the middle.
For those who want to stay in one place:
A group of us will hang out at the Glenelg Foreshore Playspace from 9am and grab coffee or ice cream when the walkers arrive. This might be a good option for seniors, or families with young children.