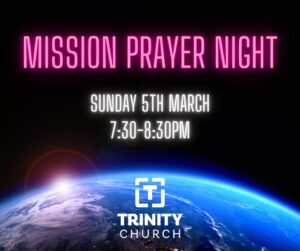 2 Corinthians 5:18-21
All this is from God, who reconciled us to himself through Christ and gave us the ministry of reconciliation: that God was reconciling the world to himself in Christ, not counting people's sins against them. And he has committed to us the message of reconciliation. We are therefore Christ's ambassadors, as though God were making his appeal through us. We implore you on Christ's behalf: Be reconciled to God. God made him who had no sin to be sin for us, so that in him we might become the righteousness of God.
Praying for mission in our church
That everyone at Trinity Church Modbury would have boldness, a heart for the lost and deep confidence in the power of God's Spirit and God's word to bring people to repentance and faith.

 

That everyone in our church would be doing something every week to lead people to Jesus – motivated not by guilt, but by the love of Christ.

 

That we would embrace our identity as ambassadors of Jesus, proclaiming his message and living it out in our lives.

 

That the families who have connected with us through our Tuesday Playgroup would take next steps in exploring Jesus.

 

That we would connect with many more people in our local community through our events and advertising.
That we would be bold in inviting people along to our upcoming Easter services, and that many would come along and hear the good news of Jesus' death and resurrection.

 

That God would give each of us boldness and wisdom as we think through the next steps to take in trying to lead people we know to Jesus.
That God would bring many along to our May Life Series (combined with Pooraka, Grove & Campbelltown), and use it to lead people to faith in Jesus.

 

That we would see an increasing number of people coming to faith in Jesus at Trinity Church Modbury.

 

That our staff team, leadership team and mission team members would lead the way in personal evangelism, setting an example for others to follow.

 

That our children and youth would not only put their trust in Jesus, but be passionate about sharing Jesus with others.

 

That our Sunday gatherings and Community Groups would be helpful in driving an evangelistic culture and encouraging us all in personal mission.

 

That we would be a church dependent on God in our mission efforts, with prayer as our foundation.

 
Praying for our mission partners
Anya, AFES Mawson Lakes
Give thanks for the students who came along to Commencement Camp in February. Pray that the connections they formed on the camp, as well as what they learned from the Bible, would set them up well for the year ahead.

 

Pray for more Christian students to join AFES as the year goes on, and that an increasingly strong evangelistic culture would develop.

 

Pray that across this year, Christian students at Mawson Lakes would get to know Jesus better, and not-yet-Christian students would come to know him.

 

Pray that the weekly Bible study groups and discipleship catch-ups would be transformative time in God's word for all students involved.

 

Pray that the camps and social events throughout the year would lead to great building of relationships between staff and students.

 

Pray that the new "Snack and Chat" weekly outreach event would be fruitful in leading international students to Jesus.

 

Pray that the social and training evenings kicking off this year would allow for more connections with students, and be helpful for their relationship-building and in their walk with God.

 

Pray that God would give Anya the wisdom and energy she needs for the ministry year ahead.

 

Pray for the provision of financial support for Anya to enable her to increase her time on campus.

 
Bush Church Aid
Give thanks:
For the four new field staff recently commissioned in the NT and for Jack and Lil Harradine commissioned as Indigenous Evangelist and Ministry Officer for SA as part of the Aboriginal Berean Community Church, Cheltenham.
For the opportunity to hear what God is doing around Australia and especially among first nations peoples at the upcoming five BCA Bible n Bush events March 20-23.
Please pray:
God would use the BCA Bible n Bush events to help Christians and Churches in SA to better understand the opportunities and unique challenges in the indigenous space and how we can be partnering to make disciples of the nations in regional, rural and remote Australia.

 

As BCA partners with the Bible College of SA to run an inaugural Indigenous Cultural Awareness Training event for Ministry workers, trainees, Church leaders and their teams on Friday March 24th and that it would result in more indigenous people being evangelised, discipled, and equipped to preach and teach God's word.
Maggie Crewes in Cambodia, CMS
In light of the recent news that Maggie has been forced to wind up operations in Cambodia and return to Australia later this year, please pray:
For the girls in Cambodia who have been rescued (and those who need to be rescued) from exploitation, that ways for them to be cared for would emerge.
For the staff of the Phnom Penh office of Hope For Justice, that they would be able to work together well in this winding up phase and that new opportunities would emerge for each of them in coming months.

 

For Maggie to lead her team in a manner that displays her trust in Jesus as the Lord over all circumstances, and that her staff and others would see this Christ-like example and be drawn to deep trust in Christ themselves.

 

For God to refresh, empower, and guide Maggie to a new and wonderful path for serving him in the future.
Praying for people we know
In groups of 2-3, share and pray together about a couple of people on your heart, who you are praying would come to know Jesus.