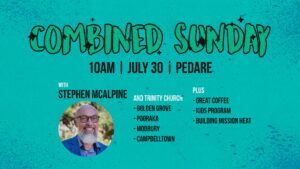 All four north-eastern Trinity Network churches will be joining together for one big Combined Sunday at Pedare College. We'll launch our upcoming Big Questions series and also hear a Bible talk from Stephen McAlpine about how to live for Jesus in a world that says we shouldn't. This is not a Sunday to be missed!
Here is a map of Pedare, with information about parking, toilets and kid's programs. You can also download an app beforehand to assist with hearing, if that's helpful.
Stephen will also be hosting a follow-up Q&A event that evening, for anyone interested in hearing more on the topic.